About Us
BEST WESTERN HOTEL & CASINO KAMUK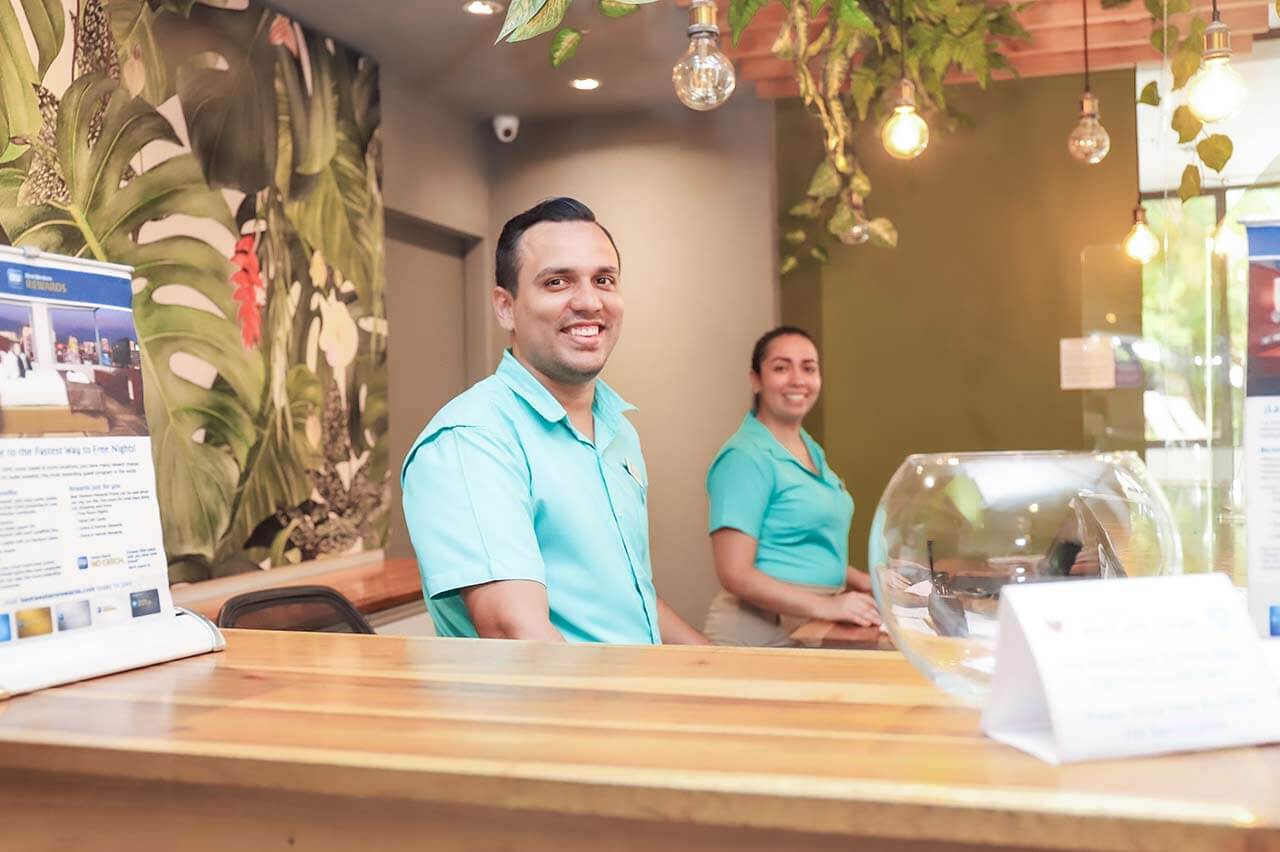 Our hotel and its more than 30 years of history, along with the experience of the international Best Western hotel network, is the only four-star hotel in downtown Quepos: a synonym of top-level hospitality and customized services to meet each guest's needs. We are located in front of the pier, from where you can enjoy the fresh sea breeze, just 7.7 km (4.8 miles) away from the world-renowned Manuel Antonio National Park.

We offer Standard, Superior, and Premium rooms, so you can choose the one that best fits your needs. Beautiful ocean view Mira Olas Restaurant welcomes you with a menu that highlights the history, local produce, and socio-economic activities, granting quality and freshness to every meal. Outdoor swimming pool, a world-class spa, comfortable conference room – all in one single location, allowing you to enjoy your stay for longer periods and including all the comfort and amenities with your family and loved ones.
You can shop downtown for casual and beachwear boutiques, beauty parlors, jewelry stores, ice cream shops, delicious foods, and capture spectacular pictures.
Best Western Hotel & Casino Kamuk is the perfect option for your family adventure, either visiting with your significant other or friends, celebrating a wedding, enjoying your honeymoon, hosting special events, and more.
LEARN ABOUT OUR BIOSAFETY PROTOCOLS
ACTIVITIES TO
ENJOY IN QUEPOS
As little in extension as it is, Quepos has charming landmarks and streets, for you to spend hours strolling and enjoying the city life. When you visit this part of Costa Rica, you can rest assured you will find an adventure tour that will satisfy your preferences. You can also enjoy more traditional tours such as horseback riding, catamaran tour or boat tour for whale and dolphin watching. Many canopy tour options are available, ranging from traditional cable among the tree tops to downward sliding cable so you can fly like Superman, but still in the middle of a forest!
Information and bookings