Manuel Antonio National Park is located alongside Costa Rica's Central Pacific coastline. It was created in 1972 to protect the tropical rainforest and its wildlife, granting permanent access to the forest and beaches for all residents. The park's elevation is variable, with a maximum above sea level elevation of up to 525 feet (160 meters). The world-renowned park protects the tropical rainforest habitats, beach and mangroves. Pathways and trails lead visitors through the exuberant jungle into one of Costa Rica's most beautiful beaches: Manuel Antonio beach.
An Amazing Location and its Features:
Manuel Antonio National Park is one of Quepo's main attractions. In 2011, it was listed by "Forbes" magazine as one of the world's most beautiful national parks. In 2019, it received Tripadvisor's "Travelers Choice" award as one of 25 best beaches in the world.
Aside from its spectacular beaches, Manuel Antonio harbors several miles of well-maintained trails, which have also been adapted for special needs visitors.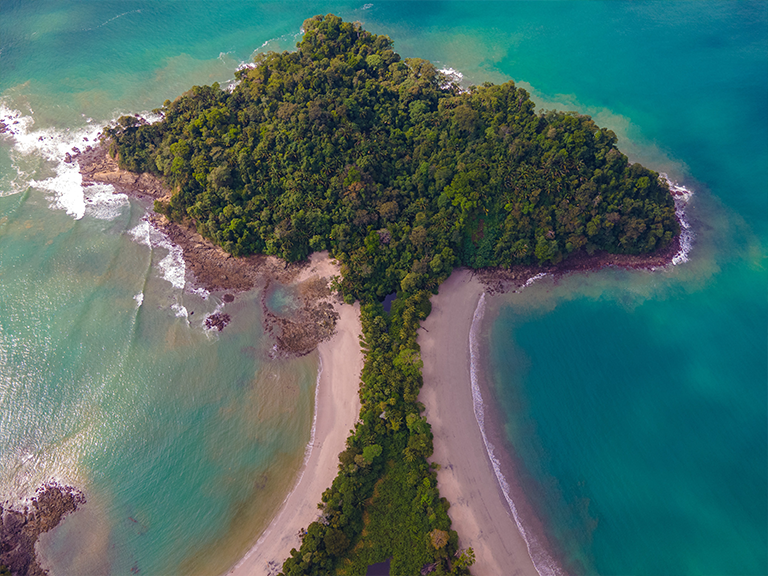 Manuel Antonio is one of the best parks to observe wildlife. Nature lovers will have a chance to observe two and three-toed sloths that are easily spotted in the area, as well as raccoons, coatis, pacas, ant bears and sometimes even ocelots. You will also find many reptiles, including iguanas, boa constrictors and numerous lizards. Different monkey species such as the howler monkey, Central American squirrel monkey, spider monkey and capuchins are part of the park's natural diversity, contributing to a unique experience as you merge into the wild.
A dense forest composed by Guacimo Colorado tree (Leuhea seemannii), strawberry tree, rain tree (Samanea saman), ficus, cedarwood, honey locust tree (including the endangered black lobster tree (Robinia Pseudoacacia), rubber tree and satin cotton tree, vines and lianas. Alongside the border is a mixture of manchineel, tropical almond and copey trees and coconut palms. Near the entrance, a small mangrove area showcases three species: red, buttonwood and white mangrove trees.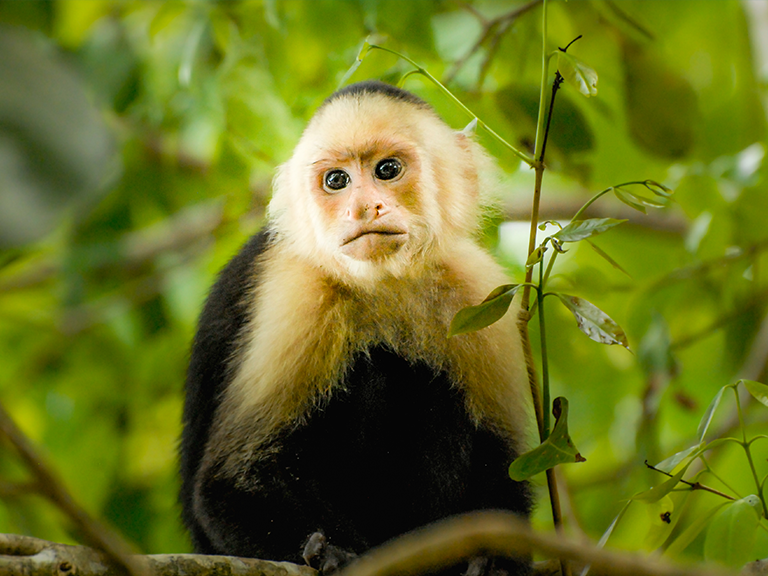 Over 350 bird species live in Manuel Antonio and several others visit the park. You can observe maroon pelicans at sea and five species of kingfisher, including the Amazonian bright emerald working at creeks and lakes. The bright colors of the Fiery-billed Aracari and Chestnut-mandibled Toucan blend spectacularly with the forest, along with other species such as the Lineated woodpecker, Striped treehunter and red-head grasshopper. Although some of these species are rarely spotted, a knowledgeable tour guide will increase your odds of watching and even photographing them.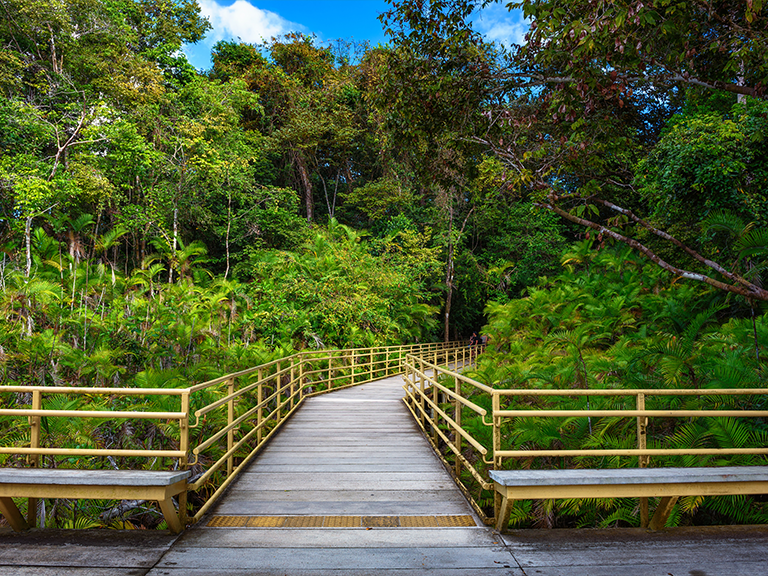 Things to Keep in Mind Before Visiting the Park:
Manuel Antonio National Park is managed by Costa Rica's governmental entities. Visiting hours are from Wednesday to Monday, from 7:00 am to 4:00 pm (closed on Tuesdays). The park ranger's station is located at the park entrance.
The ticket price is approximately $18 for adults and $6 for children. (2022 park fares). Tickets are no longer sold at the park entrance and must be purchased in advance at the following website: https://serviciosenlinea.sinac.go.cr/​
Guided tours are highly recommended as you will have a chance to thoroughly observe the park's vegetation and wildlife. Guided tours have an approximate price of $65, including transportation, park fare and fully bilingual certified tour guides, ensuring a wonderful experience.
There are no lodging facilities within the park, therefore, we invite you to book a reservation for lodging and park tours, at our Best Western Hotel & Casino Kamuk, via our WhatsApp.
A Brief Summary About Manuel Antonio National Park:
Region: Central Pacific
Habitat: beach, tropical rainforest, mangrove
Founded in: 1972
Elevation: 0 – 525 feet (0 – 160 meters)
Is it possible to spend the night at the park? No
Wheelchair accesibility: Yes
Public restrooms and showers: Yes
Schedule: 07:00 – 16:00, Wednesday to Monday (closed on Tuesdays)
Average temperature: 70 – 90 Fahrenheit (21 – 32 Celsius)
Average annual precipitations: 151 inches (3840 millimeters)
Manuel Antonio is a jungle beach area with typically warm and humid weather. Visitors must pack a bathing suit, t-shirts, comfortable hiking shoes, waterproof clothing (if you visit during rainy season), sunblock and insect repellent.
We can provide you all the necessary information needed to visit this wonderful park. Start by booking a tour at our front desk. CONTACT US: +506 2777-0811 or via WhatsApp. Email us: ventas@kamuk.co.cr
We will be delighted to assist you and ensure an amazing experience when visiting Manuel Antonio National Park, a true wonder of nature that is yearly visited by thousands of tourists.